The next
48H of GRAL
seminar
will take place
on 27-28 March 2023
in L'Escandille, Autrans
The "48H of GRAL" is an excellent opportunity to strengthen interactions within the GRAL community, and will include plenary lectures, poster sessions, and discussions.
Registrations closed on February 10th 12:00.
For eventual late registrations, please contact GRAL's project manager anne-mathilde.thierry _at_ ibs.fr

All members of the GRAL community are welcome to attend, as well as close collaborators in Grenoble. We look forward to seeing you!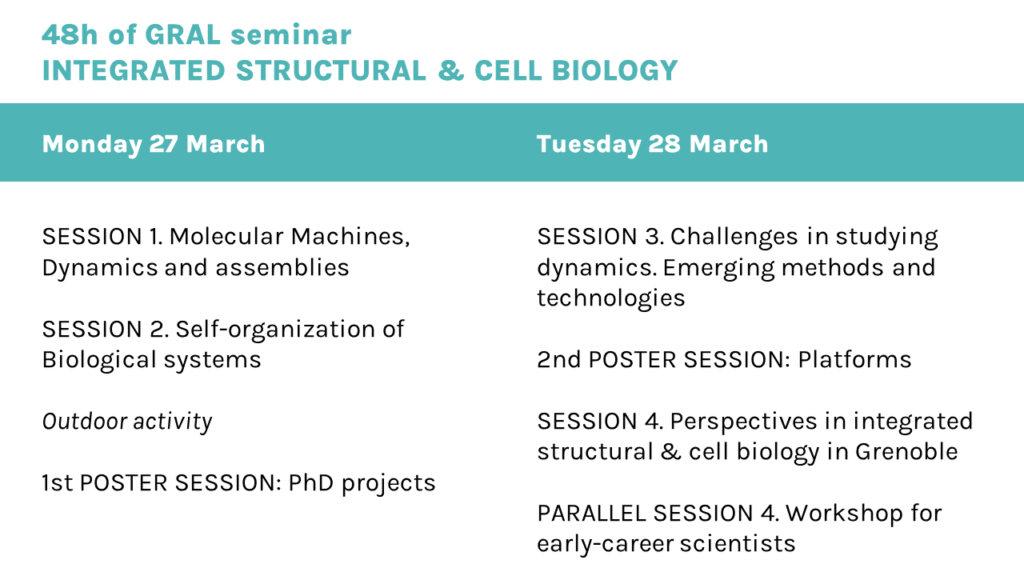 Programme of the 48H of GRAL:
Monday 27 March
8:00 – 8:30 Meeting in Presqu'île
8:30 Bus departure
9:30 Arrival in Autrans, check-in & coffee
10:15 – 10:30 Opening by GRAL directors
SESSION 1. Molecular Machines & Dynamics
10:30 – 11:20 KEYNOTE Andreas Diepold, Max Planck Institute for Terrestrial Microbiology. Function and dynamics of bacterial secretion systems
11:20 – 11:40 Malene Jensen, IBS. Recognition of the non-canonical CRIB motif of the intrinsically disordered scaffold protein POSH by the small GTPase RAC1
11:40 – 12:00 Sandrine Ollagnier de Choudens, LCBM. Iron-sulfur clusters metabolism in Mycobacterium tuberculosis
12:00 – 12:20 Cécile Breyton, IBS. How do siphophage perforate E. coli cell wall?
12:20 – 14:00 Lunch
SESSION 2. Self-organization of Biological systems: from molecular assembly to functional architecture
14:00 – 14:50 KEYNOTE Julia Cuellar Santiago, University of Lausanne. Perception and signaling mechanisms of peptides involved in cell wall integrity and remodeling
14:50 – 15:10 Alexandra Colin, LPCV. Recycling limits the lifetime of actin turnover
15:10 – 15:30 Sabine Bailly, BioSanté. Deciphering the molecular mechanisms of the Rendu-Osler syndrome: a rare genetic cardiovascular disease
15:30 – 15:50 François Parcy, LPCV. An unsuspected function for an old floral complex
15:50 Group picture in front of Escandille
16:00 – 18:15 Outdoor activity. To choose between: hike, orientation & biathlon initiation, or balade contée (en français)
18:30 – 20:00 PhD projects poster session

20:00 Dinner
Tuesday 28 March
SESSION 3. Challenges in studying dynamics. Emerging methods and technologies
8:30 – 9:20 KEYNOTE Panagiotis Kastritis, MLU Halle. Exploring biomolecular organization in native cell extracts with cryo-electron microscopy
9:20 – 9:40 Elda Bauda & Benoit Gallet, IBS. Exploring native cellular ultrastructure using cryo-electron tomography
9:40 – 10:00 Emmanuel Taillebourg, BGE. The RNA methyl transferase Pcif1 is catalytically dead in Drosophila but still binds RNA polII and regulates gene expression and fertility
10:00 – 10:20 Philippe Frachet, IBS. Nanoscale imaging of CD47 and its partners reveals its function on apoptotic cell membranes
10:20 – 10:40 Coffee break
10:40 – 12:10 Platform poster session
For platform staff to present their expertise & for scientists to present their work done using platforms
Cell imaging platform – M4D, CMBA, EDyP service, GEMELI-GExiM metabolomics platform, ISBG Biophysics, MEM : electron diffraction of 3D nanocristals, …
12:10 – 13:45 Lunch
SESSION 4. Perspectives OR Science communication
13:45 – 16:00
Perspectives in integrative structural & cell biology in Grenoble
Drafting a white paper to propose the outlines of a future scientific project
OR
Communicating scientific research, by Aleksandra Bogdanovic–Guillon
For PhD students, post-docs, and anyone interested
16:00 – 16:20 Announcement of student poster awards
Closing words
16:30 Departure
17:30 – 18:00 Arrival in Grenoble