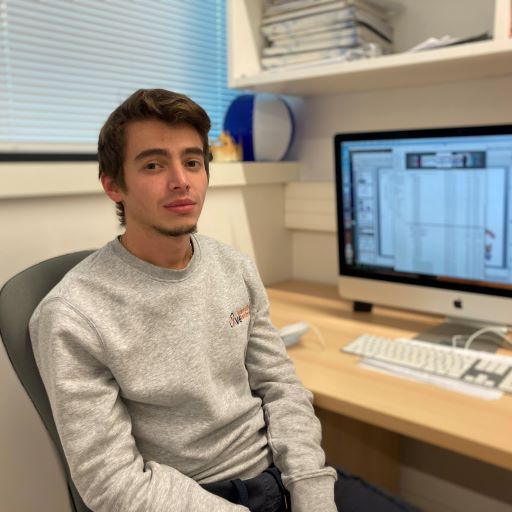 His project: Structure of the HIV-1 envelope glycoprotein in complex with a novel bnAb LN02
Hello! My name is Borys, and I am from Ukraine! I am a PhD student working on the potential HIV vaccine candidate under the supervision of Prof. Winfried Weissenhorn and Dr. Grégory Effantin. I have completed my bachelor's in biotechnologies in my hometown, in Kyiv. The next two years I spent in Spain, Belgium and France doing Master in vaccinology. The pandemic crisis opened my eyes on how important research on host-pathogen interactions is and application of its knowledge in the development of the vaccines and therapeutics.
In my project I focus on the HIV-1 envelope (Env) glycoprotein which mediates virus entry. Env is the main target of broadly neutralizing antibodies (bnAbs) making it a potential vaccine candidate. Unfortunately, HIV-1 vaccine candidates repeatedly failed in the vaccine trials.  For this reason, non-conventional approaches are applied to understand the structural basis of Env recognition by bnAbs. Using cryo-electron microscopy I aim to solve structure of Env with a novel bnAb that should give us information on the important immunoactive regions that are obscure in the current resolved structures.  Together, our approaches will provide insights into the structure of the Env unresolved regions, which will have important implications for vaccine development.
After living in 6 different cities in Europe, I realized Grenoble can become my real home. It is not big, it is not small, it surrounded by gorgeous mountains and it is full of scientists of multiple origins with open great minds.